"T" sTYLE BERRY TRELLISING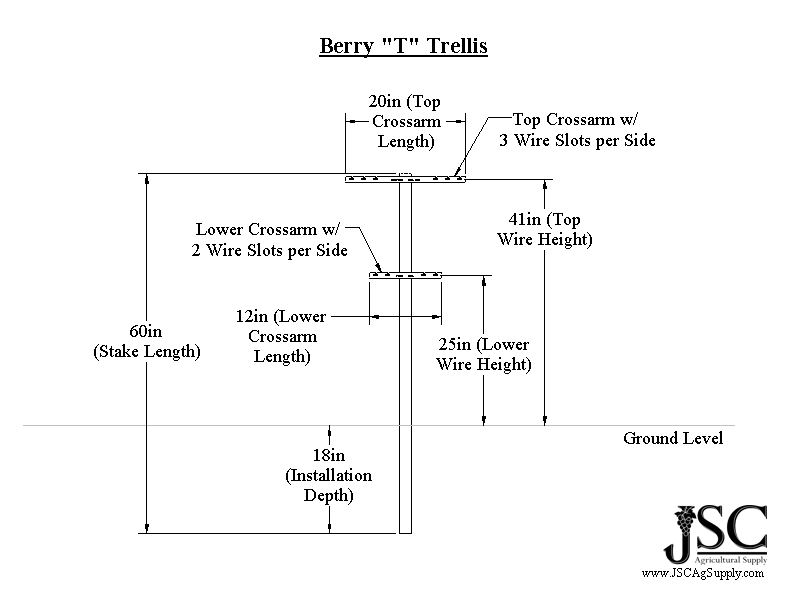 Benefits Of
The "T" Style Berry Trellis

Metal trellising has a longer service life due to its rust resistance

System permits organic farming due to the lack of treated wood

Suitable for both in-ground and potted plants

The simplicity of this trellis system makes it cost-efficient

Reduces replacement costs when comparing to wood trellis options

Easily replaceable when damaged

Super stakes are strong and durable, great for long term projects
Cut out the middleman
and save BIG BUCKS.
Manufactured Domestically
Our in-house production plant allows us to
bring you the BEST PRICE and QUICKEST turnaround.
Together, we can strategize and create a
trellising system tailored to your crop's specific needs.
What's So Great About
In-House Manufacturing?
Our unique manufacturing capabilities allow us to customize trellising materials according to each client's needs. We've worked with hundreds of custom requests from growers. These requests have included everything from varying lengths and hole patterns to specific notches and hot-rolled or galvanized finishes. In addition, our research and development team is continuously developing prototypes for up-and-coming products, all designed to benefit the growing process. Contact us today!
Monday - Friday
7:00am PST - 4:00pm PST
Are you an introvert in a rush?
Not to worry, shoot us an instant message.
Let us help you build
the perfect trellising system.
We have several locations across California and
the Pacific Northwest.
Recommended Field Supplies
For Berries